Hi everyone! I'm Anna from Hidden Ponies, where I blog about everyday food and everyday life – the two invariably come together, it can't be helped!  Like Kristen, I don't believe delicious has to be expensive.  Cooking and baking are all about home, family, love, health, and comfort.
And chocolate.  When I heard Kristen was hosting a month of solid chocolate, I knew I had to end up here.  Me and chocolate….we're like this.
I am a firm believer in eating, not drinking, my calories, but hot cocoa is one of the few drinks that tempts me to cheat on my water bottle.  That is, until these cookies came along and saved our relationship.  I like my cookies soft, chewy, rich, and just as good a few days later, and these deliver on every single count.  They also come in a perfect small portion so you can eat two or three without ruining what was a perfectly good diet.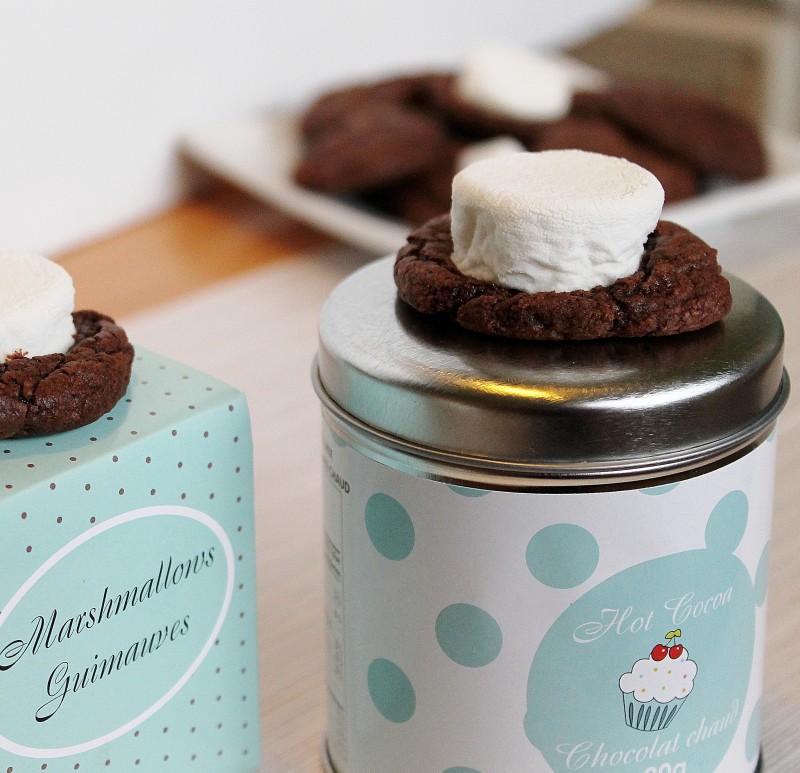 Their only fault is this: you have to chill the dough.  UGH, I know, I hate it as much as you do.
But we're working with melted butter and chocolate here, so the dough will be a bit soft and in need of a chilling, and this will ensure a chewy, perfect cookie, so even if it's just for an hour, it's worth it.  You can also be proactive and make your dough the day before you need it and store it, covered, in the fridge, until you're ready to bake.  (Let it stand at room temperature for 5-10 minutes if you do this or you'll get a sore wrist from scooping the very hard dough. True story.)
Now you can get the chocolatey comfort that comes from a steaming mug of hot cocoa topped with marshmallows in a satisfyingly real cookie.  Eat these cookies warm out of the oven for the fullest effect, or zap one in the microwave to relive the glory!  These are arguably JUST as good at room temperature, and will stay soft in an airtight plastic container for about 5 days – not that they're likely to last that long!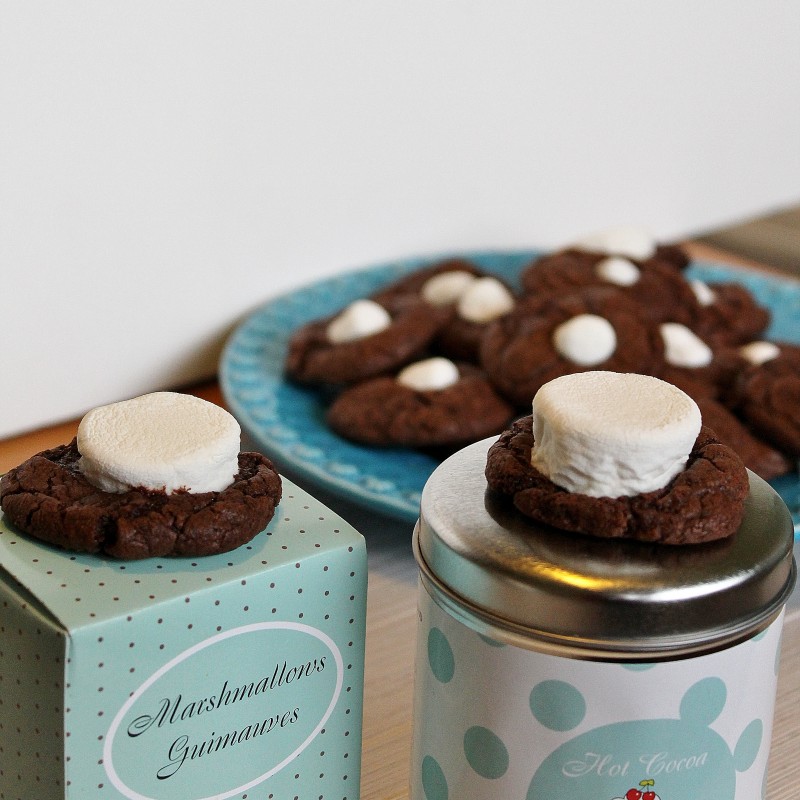 I loved these adorned with mini marshmallows, my kids and other kids loved them with full size marshmallow pieces (1 large marshmallow does 3 cookies), and you could also use the cute little mallow bits I can never find that Kristen used in her awesome Peppermint Marshmallow Chocolate Cookies.  You could even get really adventurous and make "Fluffy Homemade Marshmallows"  while your dough chills, a fun little science-y game that never gets old for me!  AND, last but not least, if you run out of marshmallows (which I did) and don't have time to make any (which I didn't) , these are hands-down one of the best plain chocolate cookies you will ever eat.
Wins all 'round, and no excuses not to make them 🙂
Kristen, thanks so much for having me as part of this delicious chocolate month!  I hope you'll stop by and visit me at my blog,  or hang out with me on Facebook, Twitter,  Pinterest, or Google +!  I love to talk food, but am just as likely to get distracted by my family or a good bit of DIY or furniture refinishing 🙂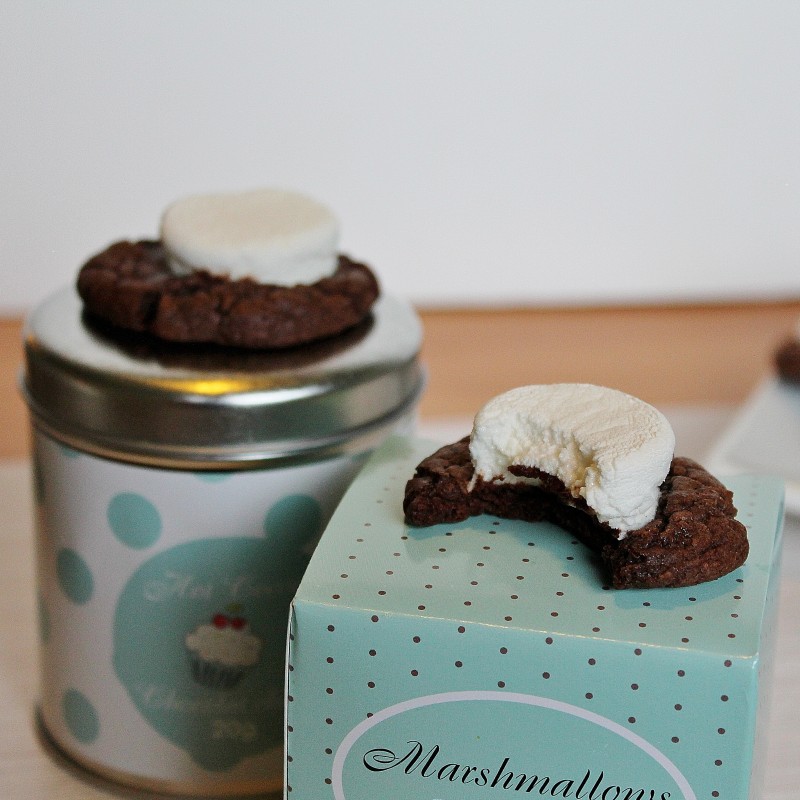 Hot Cocoa Cookies
Author:
Hidden Ponies adapted from Two Peas and Their Pod
Ingredients
½ cup butter or margarine
2 cups milk chocolate chips
1½ cups all-purpose flour
¼ cup hot cocoa mix (or substitute cocoa powder if necessary)
1½ teaspoons baking powder
½ teaspoon salt
1 cup brown sugar
2 large eggs
2 teaspoons vanilla extract
Approx. 16 full size or 48 mini marshmallows - use scissors to snip full size marshmallows into thirds
Instructions
In a small saucepan over low-medium heat, stirring constantly, melt butter and chocolate chips until smooth.
Set aside to cool for about 10 minutes.
Meanwhile, in a medium bowl, stir together flour, hot cocoa, baking powder, and salt.
Set aside.
In a large bowl or the bowl of a stand mixer, beat the brown sugar, eggs, and vanilla together until creamy (2-3 minutes).
Slowly mix in dry ingredients.
Mix in the melted, cooled chocolate, then cover and refrigerate cookie dough for at least 1 hour or overnight.
When it's time to bake, preheat oven to 325 degrees F.
Line a large baking sheet with parchment paper or lightly grease it.
Drop dough by fairly level teaspoonfuls onto baking sheet, leaving about 2" between balls.
Bake for 6 minutes, pull cookies out of oven and quickly place 1 marshmallow piece or mini marshmallow in the center of each cookie.
Bake cookies for an additional 4 minutes, or until marshmallows are soft and cookies are set around the edges, but still soft.
Let the cookies cool on the baking sheet for 2 minutes before transferring to a wire cooling rack to cool completely.